The Edge: Sarah Lloyd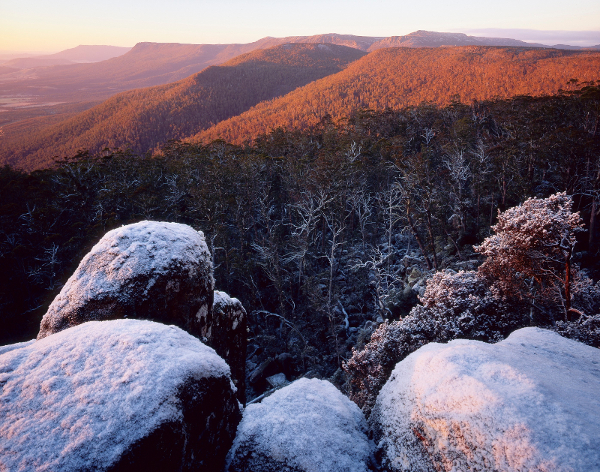 The Edge
A natural history of Tasmania's Great Western Tiers
Sarah Lloyd OAM
Foreword by Tom May
ISBN 978-0-646-57082-2
Published in Meander, Tas. : Friends of Jackeys Marsh, 2012.
56 pages, colour illustrated, maps ; 21 x 30 cm
Printing of The Edge was funded by a grant from the Jani Haenke Charitable Trust.
Excerpt from the Introduction:
The Great Western Tiers are a series of mountains that form the northern and eastern edge of Tasmania's Central Plateau. The mountains extend from Western Bluff (1420m) south of Mole Creek to Millers Bluff (1210m) overlooking the Macquarie River valley 25 km west of Campbell Town. Between Western and Millers Bluff are Mt Ironstone (which at 1443 metres is the highest mountain of the tiers) and numerous other bluffs and small mountains including Mother Cummings Peak, Projection Bluff, Liffey Bluff, Drys Bluff, Billopp Bluff, Parson and Clerk Mountains and Molly Yorks Night Cap. South of Deloraine is the distinctive monolith, Quamby Bluff, with Cluan Tiers, a series of low hills, to its northeast.
Towering cliffs and columns of Jurassic dolerite characteristic of so many of Tasmania's mountains are the most visible geological features of the Tiers. Fossil-bearing mudstone occurs around Golden Valley and sandstone cliffs between Mother Cummings Peak and Drys Bluff and in the Jackeys Marsh – Quamby Bluff area support a unique vegetation community with many rare and endemic plants, i.e. plants that are found nowhere else in the world. An extensive plain of 510 million-year-old Ordovician limestone in the vicinity of Mole Creek and Chudleigh features formations typical of karst areas including underground drainage systems, sinkholes and spectacular caves with unique troglobytic (i.e. cave dwelling) fauna. Over 180 named and unnamed permanent and ephemeral streams flow from the central plateau and eventually join the major waterways in the central north of Tasmania including the Mersey, Meander and Macquarie Rivers.
Review by R.L. Broughton M.A. Heritage, BA, ALIA, ASA:
This series of well-connected essays explores the interconnections between the landforms, climate, fauna and flora of the Great Western Tiers region,  of the north eastern margin of the Central Plateau of Northern Tasmania.  This is an informative and well considered examination of historical and contemporary environmental management needs of the Western Tiers.  The overtly conservationist stance of this publication is not grating, as it is a natural extension of the raison d'etre of this publication and is freely acknowledged by the various authors.
The style is mostly scientific, without footnotes, but with text boxes containing information on endangered species.  The material is accessible to the educated reader and in the best tradition of scientific journalism, invites further investigation without bogging the reader down in the specialist aspects of the various disciplines.  The consideration of western occupation is adequate but not extensive and a deeper study of settlement impacts and physical anthropology would be useful.
The illustrations are well chosen and almost always of considerable aesthetic appeal, there are occasional curious absences, such as velvet worms, but the overall impression is of lavish colour illustrations chosen to support as well as illustrate the text.
The inclusion of a section on karst formation [limestone] is of particular value both because this area is of national significance and also so often the underground and geological features of regions are underrepresented in conservation publications.
Fortunately, the writing styles mesh well between authors of the extensive forewords and background notes and the main portion of the book and it is revelatory and fascinating and invites further involvement.   This publication would be most appealing to academic and college libraries and would have a place in any decent public library collection. As this publication avoids a didactic presentation, that would alienate younger students, it could be recommended for advanced secondary students.
Price: $30
Email us to purchase a copy:  info@greatwesterntiers.org
or:
Hobart
Hobart Book Shop
The Wilderness Society Shop
Fullers Bookshop
Launceston
Petrarchs Book Shop
Fullers Book Shop
Deloraine and Surrounds
Visitor Centre, Deloraine
Seppenfelts Gifts and Emporium, Deloraine
Newsagency, Deloraine
Caves, Mole Creek
Trowunna Wildlife Park, Mole Creek
Store and Post Office, Meander
Devonport
Devonport Book Shop